There are no longer any restrictions in place in the church building! Services will continue to be live streamed on our FB Group alternating between the 2 churches.  It is also recorded and uploaded to YouTube later in the day. 
The Connect is available to download here and archives can be found here
Do join us on Facebook to keep up-to-date with the latest developments. Our midweek services during this time are at 10am on a  Wednesday and can be found on FB Live within the closed group or on YouTube and our FB page after the event. If you wish to join us on Zoom do make contact with the church office.
Do join us on our YouTube channel where we will post videos from our services.
St Mary's is a welcoming Church. We are here to offer God's grace and to share God's love in Dalkeith and the surrounding area.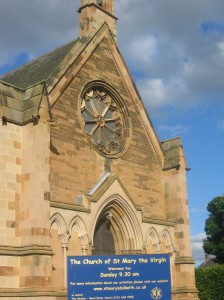 We are part of the Diocese of Edinburgh in the Scottish Episcopal Church through which we are members of the worldwide  Anglican community.
Please do feel free to have a look around our website and when you are in the Dalkeith area come and enjoy the Country Park and join us for worship on Sunday.
St Mary's is  linked with St Leonard's Lasswade together we seek to enable each other to grow in faith, in diversity and in unity.