St Mary's Church, dedicated to St Mary the Virgin, was built in 1843 and consecrated in 1845.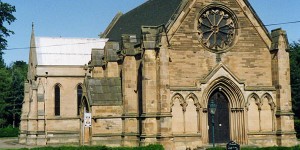 St Mary's is a fine example of English university chapel style architecture. It is lofty, with an elegant double hammer-beam roof with fan vaulting in the chancel. Worthy of particular note are the windows of the east and west ends. The mosaic glass of the west Wheel (or Rose) window, and the New Testament scenes in Gothic frames in the three east windows, were designed and executed in France in 1845 for Ward and Nixon of London.
An impressive Hamilton of Edinburgh organ, installed in 1846, situated at the west end, is a spendid example of a hydraulically blown organ, the only currently working Hamilton water powered organ in Scotland still regularly used in worship.